Product Description
Type Test:
EN14525
Rubber Standard:
EN681-2
BS1449-304S15-2B
BSENISO898-1
BS4190-4
Product categories of Stainless Steel Repair Clamp, we are specialized manufacturers from China, Stainless Steel Repair Clamp, Stainless Steel Pipe Repair Clamp suppliers/factory, wholesale high-quality products of Adjustable Stainless Steel Repair Clamp R & D and manufacturing, we have the perfect after-sales service and technical support. Look forward to your cooperation!
Body & Plates
Shell, channel plate, bridging plate, lug plate & nut plate
Stainless Steel to BS1449:Part 2:1983 GRADE 304S15
Gasket
EPDM to BS EN681-1, TYPE WA, WC or Nitrile to BS EN682:2002,
Type G 60 IRHD moulded compound
Materials & Relevant Standards
Studs/Nuts/Washers
Studs - Stainless Steel to BS EN ISO3506-1:2009 GRADE A2 Property Class 50
Nuts - Stainless Steel to BS EN ISO 3506-2:2009 GRADE A4 Property Class 80
Washers - Stainless Steel BS1449:PART 2:1983 GRADE 304S15
Bolt Torques
M12 = 55 - 65Nm • M14 = 70 - 85Nm • M16 = 95 - 110Nm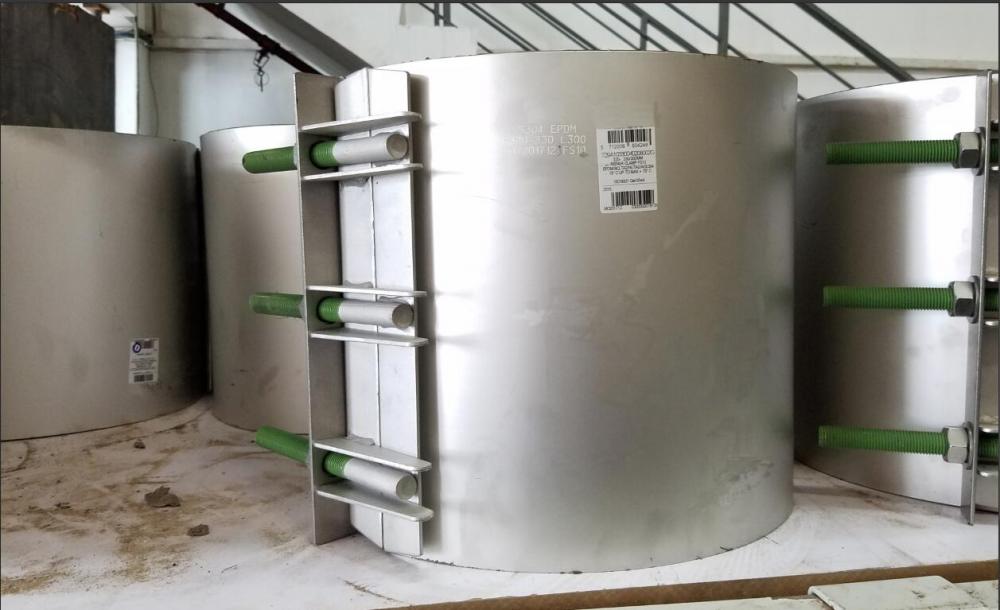 ype Test:
EN14525/BS8561
Rubber Standard:
EN681-2
Ductile Lron:
BSEN1563EN-GJS(QT)-450-10
Coating;
WIS4-52-01
Drilling spec:
EN1092-2
A range of mechanical couplings and flange adaptors for all weather and site conditions providing a quick, easy way of joining or repairing PE pipe connections.
They offer full end restraint, removing the need for expensive thrust blocks. Specialist products are also available as end termination systems for pipelines rehabilitated with thin walled PE pipe.
Ductile Iron Pipe Joint,Ductile Iron Pipe Fitting , bend,elbow,tee ,flange adaptor,coupling,dismantling joint,restraint flange adptor,Universal and dedicated flange adaptor and coupling
PSL is specialized in joints for Ductile iron pipe,Steel pipe,Pe pipe and so on. Universal wide tolerance flange adaptor,universal wide tolerance coupling,universal wide tolerance stepped coupling, 50% tie rods double flanged dismantling joint,100% tie rods all flanged dismantling joint,PE restraint flange adaptor with brass thrust ring and PE restraint coupling with brass thrust ring are main products.Our products have been got the WRAS certificate.
The company has passed ISO9001 quality system certification. The product`s structure, performance and quality have reached the international advanced level, can satisfy the requirements of different customers.We manufacture and supply ductile iron pipe with EN-GJS-450-10 ductile iron,ensure high durability and strength. The coating can be black bituminous paint and epoxy powder.The range of flanged pipe meets various industrial requirements. We offer these flanged pipe in different sizes and lengths in order to meet the various requirements of our esteemed clients.
· Resilient Seated Gate Valves
· Butterfly Valves
· Air Release Valves
· Smart Water Meters and in addition both monitoring and billing platforms
· Dismantling Joints
· Flange Adapters, Straight & Stepped Couplings, Ductile Iron Repair Clamps and Tapping Saddles, Stainless Steel Repair Clamps and Tapping Saddles
· Ductile Iron Flanged Pipework
China Stainless Steel Repair Clamp Suppliers
Stainless Steel Repair Clamp will seal corrosion holes, impact damage and longitudinal cracks.This kind of repair clamp can reduce stock holding due to wide tolerance in range.Stainless Steel Repair Clamp are available with single, double and triple bands,it provides full circumferential repair of splits and holes.Stainless steel repair clamp can be installed in Ductile Iron Pipe,steel pipe,PVC pipe,PE pipe and other types of pipe.It is very broad use of pipeline plugging